BRAISED SHORT RIB RECIPE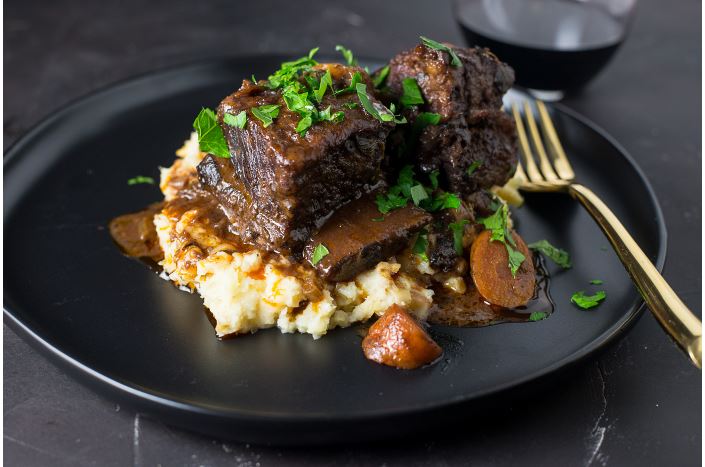 Braised Short Rib Ingredients:
1 lb hickory smoked bacon
12 short ribs, well seasoned on all sides with salt and pepper
1 medium white onion, chopped
3 cloves garlic, minced
1 small shallot, minced
2 celery stalks, diced
2 carrot sticks, chopped into ½" discs
1 small, ripe plum tomato, finely chopped
1 small can tomato paste
2 T fresh thyme, chopped
2 T fresh rosemary, chopped
1 bay leaf
1 750ml bottle of dry red wine (I use Woodbridge cabernet. Doesn't have to be expensive but should be something you find drinkable)
16 oz good beef stock
1 cup shitake mushrooms
¼ cup good olive oil
¼ stick of butter
2 T cornstarch
Braised Short Rib Directions:
Take a large, heavy skillet and fill with 1 ½ to 2" of water and put on high heat. Take the bacon and cut sideways into ½" strips. Put the strips into the water and stir gently so the individual strips aren't stuck together. Watch closely, reduce heat as water reaches a low boil and maintain low boil for about 15 min. Dump water/bacon into a pasta strainer. Wipe side of skillet and return to hot burner. Increase heat to medium high and add bacon back to the skillet. Stir frequently for the first few minutes until fat begins to render so bacon doesn't stick to pan. Cook on med-high until bacon is brown and crisp, approx. 10 min. Keep heat high, just short of when the bacon fat smokes. When the bacon is browned and the majority of the fat is rendered, reduce heat to medium. Use a slotted spoon to remove bacon from the pan. Set bacon aside.
Add ribs to the bacon fat, one rib at a time, and brown well on all sides. Leave at least ½" distance between ribs so they brown well without steaming each other. You want a nice, deep brown that looks almost "crispy" without being burnt. Add browned ribs to a large, heavy dutch oven or other large, heavy pot. Once all the ribs are browned, reduce heat to medium, remove most of the bacon fat, leaving about ¼' at the bottom of the pan. To the pot with the meat, add tomato, thyme, rosemary and bay leaf.
Add onion, garlic and shallots to the hot oil in the pan. Season with salt and pepper and cook until translucent and fragrant, about 3 min. Add celery and carrots to skillet, season with salt and pepper and continue cooking with onion mixture for another 3 to 5 min. Add onion/garlic/shallot mixture to the pot with the meat once.
Add the stock to the pot with the meat and then fill the pot with the wine until the tops of the meat are just covered with liquid. Bring pot to a gentle boil, cover with a lid leaving ¼' crack to let alcohol boil off during cooking. Reduce heat until there's a VERY gentle simmer. This is an important part. Boiling actually dries out the meat so you want a gentle simmer (bubbles throughout the pan). Too high a boil and the meat will be dry, too low a boil and the meat won't become tender in the timeframe set here. Let simmer for 1 1/2 to 2 hours until short ribs are tender but not falling apart. If ribs are on too low a boil and aren't fully tender, increase heat just a little bit and continue cooking until the right tenderness is achieved.
While the ribs are cooking, heat a skillet over medium high heat, add olive oil and saute mushrooms until cooked, approx. 6 minutes. Season with salt and pepper.
Once the ribs are done, using sturdy tongs, gently remove ribs from cooking liquid and set aside in a bowl. Remove the bay leaf. Using a turkey baster remove any excess oil from the top of the cooking liquid, if desired (I usually skip that step). Increase heat and bring cooking liquid to a medium boil. To thicken the cooking liquid into a wonderful gravy: Add cornstarch to a coffee mug. Fill coffee mug ¾ full with water. Stir cornstarch thoroughly until it's fully dissolved into the water. Add water/cornstarch to the pot with the cooking liquid. Add butter and stir until liquid returns to a low boil and let simmer for a few minutes. Add more dissolved cornstarch if thicker gravy is desired. Once the gravy gets to the right consistency, season well with salt and pepper to taste. Add bacon and mushrooms to the now-thickened gravy. Check flavor and re-season with salt and pepper, if needed. Keep gravy at a gentle boil for about 10 minutes to make sure the corn starch is fully cooked and to reduce a bit. Return the ribs to the gravy, turn off heat but leave the pot on the hot burner and let sit for 10 min to bring ribs back to temperature, then serve.
I serve my ribs over a generous dollop of mashed potatoes and make sure everyone gets a good amount of gravy with plenty of the veggies, bacon and mushrooms. This dish goes especially well with hearty red wines so get your favorite bottle of Cabernet, Zinfandel, Bordeaux, Barolo or Malbec, invite a few friends over and have a great time–OR–Have a quiet dinner for two and freeze what's left. Part of the Schweitzer family tradition is for me to make a triple batch of this one week in November and throw it in the freezer. Sometime after the Superbowl and well before spring it will be a random weeknight and we won't want to cook and won't want to get take out. This is as good if not better reheated from the freezer (in a pot, not in microwave) and gives you a great alternative to pizza. Enjoy!
- Chef Allen Schweitzer (aka Verndale's Chief Revenue Officer)
See other recipes from our teammates -
- Bourbon Bread Pudding Recipe
- Chocolate Chip Cookies (Vegan) Recipe