Chocolate Brownies Recipe
CHOCOLATE BROWNIES (GF OPTION)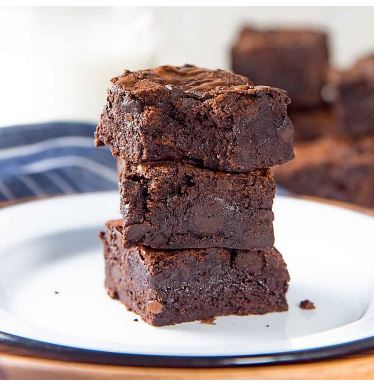 This is my teenage daughter's favorite dessert. These are rich, fudge like brownies that can be frosted to dress them up if you'd like. They are already very sweet on their own though. This is a slightly revised version of a recipe I found in Bon Appetit magazine years ago.
Chocolate Brownies Ingredients:
3 large eggs
2 teaspoons vanilla extract
1 ¼ cups sugar
2/3 cup of all-purpose flour (or gluten free flour)
½ teaspoon baking powder
4 ounces semisweet chocolate
2 ounces of unsweetened chocolate
10 tablespoons of salted butter (1 ¼ sticks)
Chocolate Brownies Directions:
Preheat oven to 325F
Grease a 13x9 inch pan
Mix eggs, vanilla, and sugar
Add flour and baking powder
Break the chocolate into small pieces and place into a small saucepan with the butter
Melt over low heat, stirring frequently until glossy and smooth
Turn off heat and let cool for a few minutes
Pour melted chocolate and butter in with the other ingredients and stir until well mixed
Pour the entire mixture into baking pan
Cook for about 24 minutes, or until tester inserted into center comes out with just a few moist crumbs attached
For easier and neater cutting, cool brownies in the fridge for about 1 hour before cutting. Enjoy!
- Chef Tracey Barber (aka VP of Marketing)
See other recipes from our teammates -
- Bourbon Bread Pudding Recipe
- Chocolate Chip Cookies (Vegan) Recipe