Chocolate Chip Cookies Recipe
CHOCOLATE CHIP COOKIES (VEGAN)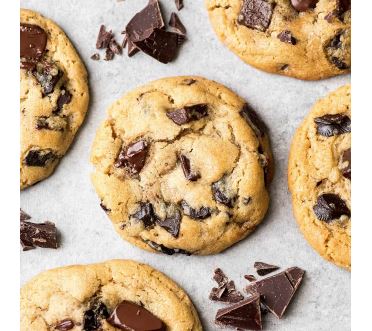 Chocolate Chip Cookies Ingredients:
1 cup Rice Flour
1 cup Coconut Flour
3 tablespoon of melted Coconut oil (edible)*
1 grated Apple
10 tablespoon Chia gel **
1 tablespoon ground Linseed (Flaxseed)
⅓ cup ground "Panela" (or Raw Cane Sugar) ***
Dark chocolate chips (at discretion)
1 pinch of Sea Salt (or simply Salt)
Chocolate Chip cookies Directions:
Put the dry ingredients in a bowl and mix
Grate the apple and add
Add the Chia Gel little by little and knead
Add the Coconut Oil
Knead well
Add the Sea Salt and Chocolate Chips
Finish kneading
(If the consistency is too dry increase the Chia Gel, if the consistency is too liquid increase the Rice Flour). Form the cookies and put them in a baking tin. Bake in a preheated oven at 175 °C (350 °F) for 20 minutes.
NOTES:
(*) The Edible Coconut Oil is found in a solid-state, so it must be melted in a frying pan.

(**) The Chia Gel is obtained with the following mixture:
2 tablespoons of Chia Seeds per ½ cup of water.

(***) You can vary the amount depending on how sweet you like it, for me that is a good measure since chocolate chips already contain sugar.
- Chef Edison Quisiguina (aka Engineer, QA)
See other recipes from our teammates -
- Bourbon Bread Pudding Recipe