MULLED WINE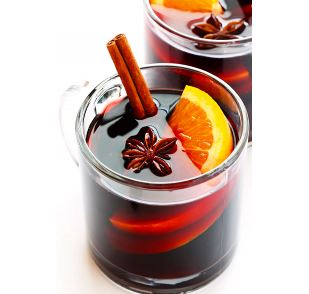 Mulled Wine Ingredients:
20 whole cloves
2 tangerines, clementines, or small oranges
2 750-ml bottles Merlot
3 cups apple cider
8 cinnamon sticks plus 8 for garnish (garnish optional)
2 green cardamom pods, cracked
2 cups tawny Port
Mulled Wine Directions:
Press stem (pointed) end of 10 cloves into each tangerine, piercing through the skin. Place tangerines, wine, cider, 2 cinnamon sticks, and cardamom pods in a large pot. Bring to a bare simmer over medium-low heat; cook gently for 20 minutes.
Do Ahead: Mulled wine can be made 2 hours ahead. Cover and let stand at room temperature. Rewarm gently over medium-low heat before continuing.
Stir in Port. Divide among glasses; garnish each with a cinnamon stick, if desired.
- Chef Christina Watts (aka Strategy Director)
See other recipes from our teammates -
- Bourbon Bread Pudding Recipe
- Chocolate Chip Cookies (Vegan) Recipe