See All Our Insights
B2B Digital Commerce Transformation Guide: Modernizing Distributor Selling
Oct 25, 2022 • 4 Minute Read • Jeff Pratt, Commerce Practice Director
Are you prepared to meet the rapidly evolving expectations of today's diverse B2B buyers?
There's a balance to strike between meeting the needs of long-standing yet less technically oriented customers and the newer generation of digital natives. It's one thing to meet this challenge head-on, but it's another to do it while maintaining brand integrity and customer loyalty. It's easy to misplace focus and over-emphasize the different levels of technical prowess and comfort of varying customer types. However, there's good news - all users share the fundamental goal of having an easy-to-use, accurate, and highly efficient UX and the information they need to help them execute their buyer responsibilities.
This article explores the following areas to help you start expanding your commerce practices to align with today's digital trends:
What digital transformation is and what it could mean for your business
Three primary stages for establishing your vision
The components of a customer experience
Takeaways - download our white paper for all of this and more
You'll close out this tab confidently with a new understanding of how to evolve digital expectations and opportunities while layering in legacy value and relationships. Preserving your organization's unique positioning and competitive differentiation and embracing both worlds is achievable. We can help you get there and lay the groundwork for a digital strategy.
Defining Digital Transformation for Your Business
Knowing where your business needs to go and how you'll get there starts with knowing where you are today. Developing a clear, informed, and data-driven digital strategy is the first step to establishing a unified framework to align your business and customer needs.
Digital transformation means many things to many people. Verndale defines digital transformation as an end-to-end technology solution for one or more defined digital initiatives such as a website, commerce capability, or CRM implementation. The goal of digital transformation is to deliver the fundamental value, expertise, and relevance that you already provide but through improved, more relevant, and efficient means.
Digital transformation can drive increased revenue and operational efficiency and improve margins and profitability. The most effective digital solutions are aligned with existing channels, sales relationships, and business processes while adding intelligent layers to each customer journey touchpoint. Digital interactions are also more measurable and far easier to standardize and scale across a larger set of users including internal CSR/sales users and customers.
For manufacturers and distributors, this could mean adding self-service solutions for your distributors and customers that fully reflect existing and special business terms, policies, and outcomes. These include custom quotes, contract pricing, subscriptions, time-released orders, and the ability for customers to reference and manage their financial touchpoints through integrated services such as past transaction references, invoice payments, re-ordering, and planful list and quote management.
Digital alignment and standardization of product data through enhanced product information management (PIM) systems can also improve efficiency and accuracy across channels regarding what's sold, while customer-specific solutions, commercial terms, and delivery options continue to support each customer's unique needs and satisfaction.
Aligning your business and customers is not a one-and-done exercise. Your buyer journeys are ongoing and require continuous improvement cycles to stay current. Keep this in mind as you analyze your positioning within a wider-scoped digital transformation and plan on conducting feedback and infusing enhancements to align digital capabilities with stakeholder expectations.
Establish Your Enterprise Digital Vision & Strategy
Investing in impactful digital capabilities and establishing technologies requires a holistic approach. In Verndale's best practices, we advise collecting input from all relevant stakeholders across your organization, market, and core customer types. We've seen companies take shortcuts only to have missed critical requirements and capabilities that are far more costly to re-engineer back into a given solution.
The overarching primary stages against which to capture, develop, and implement an appropriate and holistic digital strategy include where you are today, where you're going, and how/when you'll get there.
These three questions are stepping stones as you examine your customer experience, starting with your current state and your path to discovery, transitioning to your strategy and vision development, and ending with a prioritized and phased implementation.
Your Customer Experience is at the Center of your Planning Ecosystem
Whether your business contributes to a sense of positive support and engagement or introduces potential reasons for the customer to look for alternatives in the market, every interaction and touchpoint bubbles up to the overall customer experience.
The observation of a customer experience teetering between whether they stay or go based on a single interaction is not only true cross-departmentally but also cross-channel. Every department and channel is relevant to the digital experience within the context of your larger business experience. Gone are the days when the offline channel(s) could ignore the critical and interactive nature of online experiences and vice-versa.
In other words, all groups must embrace and commit to an optimal business experience supported and delivered by all touchpoints, devices, and experiences. The following areas orbit your customer experience and are your guiding components for developing your digital strategy.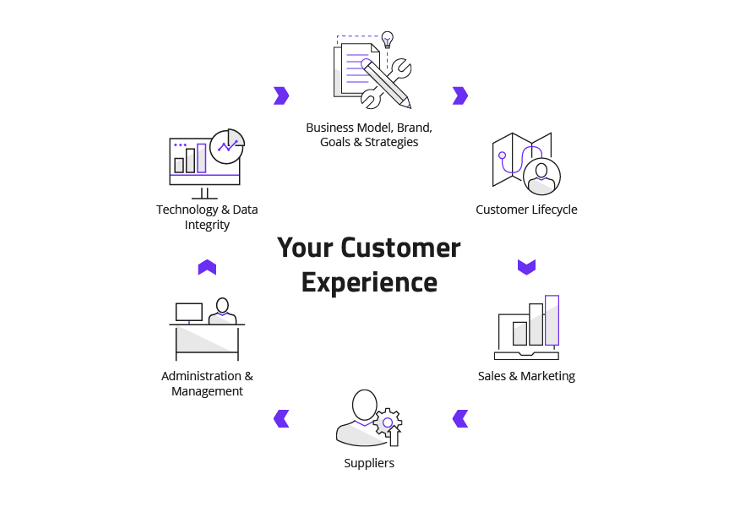 In each of these areas, you'll align validation and ownership to the appropriate departments and people in and outside your organization and develop requirements for consideration, analysis, and prioritizing. There was a time when digital or commerce experiences were isolated domains of marketing or digital commerce teams. Increasingly, however, a company's website is a full representation and critical tool of the entire business. And as you examine and consider business impacts, it's critical to get all inputs, requirements, and needs into a digestible format for evaluation.
Want a general breakdown of the different departments and perspectives within each of these areas? We developed a white paper around the concepts discussed in this article, including a detailed breakdown of each area, so you can thoroughly explore the profiles and their value.
Download the white paper on Modernizing Digital Selling to take this article and more with you. Evolve digital expectations while layering in your legacy value and relationships via:
The three primary stages against which to capture, develop, and implement a holistic digital strategy;
A thorough inspection of each component orbiting the customer experience including its use and value, specific activities, and artifacts;
And, learn how to engage, communicate, and validate each input across your organization.
B2B Digital Commerce: Planning for 6 Complexities
Jun 01, 2022 • 7 Minute Read • Bill Cronin, Technical Director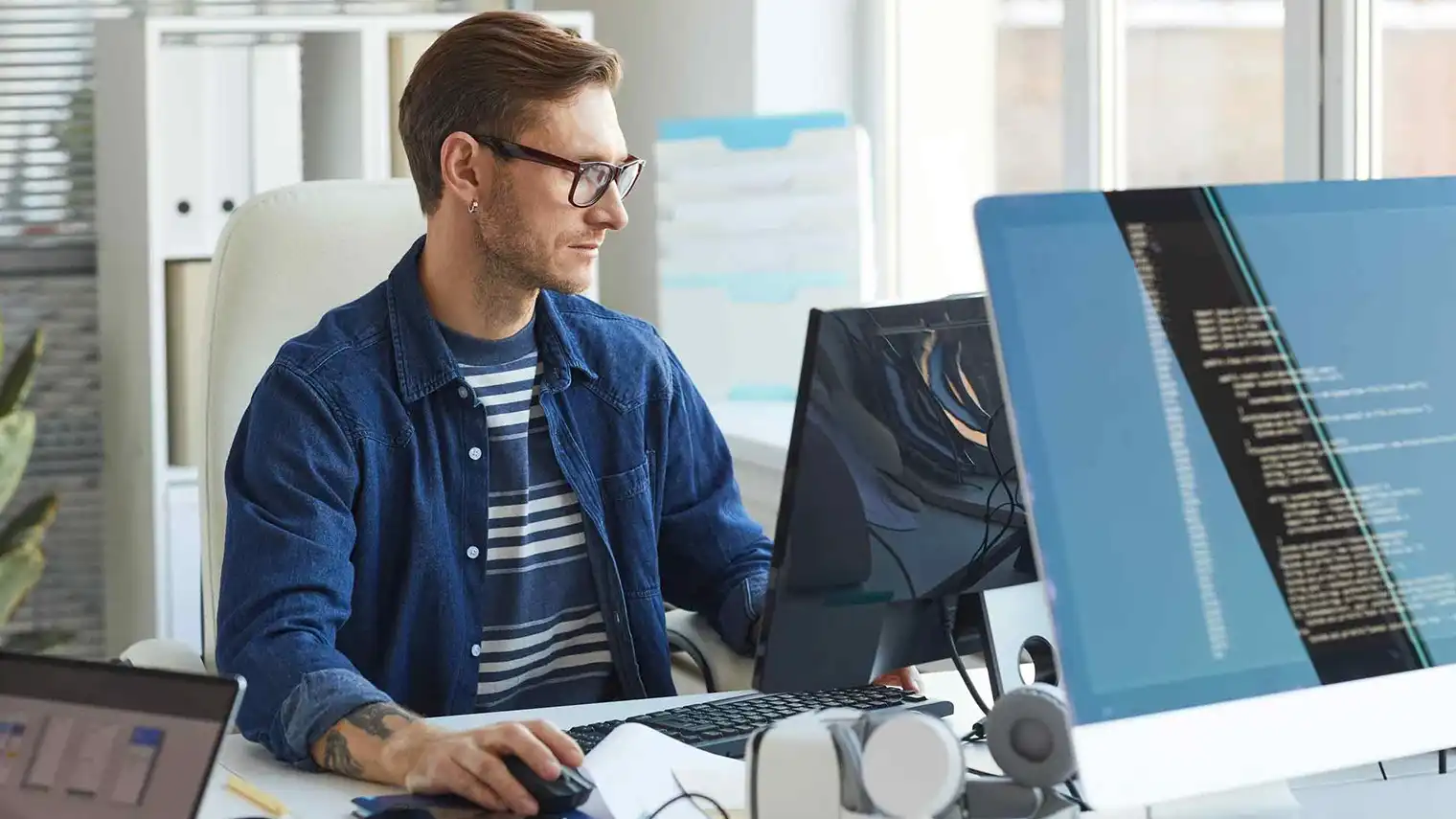 Continue Reading
Continue Reading