Customer Experience
Demystifying Sitecore CDP
Nov 12, 2021 | Elizabeth Spranzani, Chief Technology Officer
If the Sitecore Digital Experience Platform currently plays a role in your world in 2021, then the topic of Sitecore Customer Data Platform (CDP) has come up quite often. If you are a customer or potential customer, you have seen the promotional and marketing material, perhaps even seen a demo. If you attended Sitecore Symposium, you will have noticed it was a key talking point. As partners and MVPs, we at Verndale have attended many webinars, partner conversations, and training sessions. Sitecore has transparently shared the evolution of their journey with an ever-growing composable Digital Experience Platform (DXP) ecosystem, inclusive of CDP, but keeping straight the information and roadmap can be a challenge, especially since the story has changed a bit as the year has progressed. What's real now, and what is the promise of DXP/CDP utopia? As 2021 draws to a close, we felt it was time to regroup and summarize where Sitecore CDP stands, as well as simplify and demystify how our Sitecore clients should be planning for 2022.
Make no mistake, CDP is critically important. At Verndale, we are all in on the value of the CDP, so much so that we have made important hires that complement the role it plays, including an Experimentation Lead and Master Data Management (MDM) practice director. CDP may not be a new idea, but the age of CDP has definitely arrived. Your business should consider prioritizing it now and you can read more about why we think that here. YOUR CX QUARTERBACK: THE CUSTOMER DATA PLATFORM (CDP).
Sitecore agrees with this sentiment and is making CDP their 'quarterback' of Customer Experience (CX), underpinning every system.
In this post we will be summarizing what the Sitecore CDP is, its capabilities, its pros, its cons, why it is better than Sitecore XP, what differentiates it from other CDPs, and what we think the future holds. This is an aggregation of all the data points we have ingested (just like a CDP!) since Sitecore acquired Boxever in March of 2021.
What is the Sitecore CDP
Sitecore CDP started out as Boxever more than 10 years ago. Sitecore acquired the company in early 2021 as a major move to embrace the idea of MACH architecture and a composable DXP consisting of SaaS-based headless platforms.
The Boxever platform provides a 360-degree view of customers, advanced segmentation, real-time decisioning, personalization, and experimentation which acts as the brain within an organization's marketing stack, making every customer interaction more relevant. It provides a single place to join behavioral data with transactional data to see the whole customer story.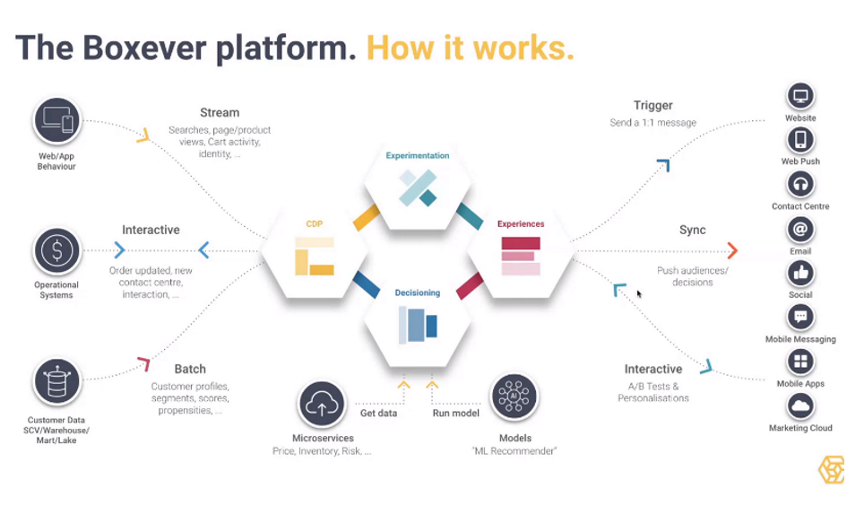 For a while, Sitecore was referencing the Boxever platform, as a whole, as Sitecore CDP, but the truth is that Boxever is a lot more than just a CDP due to its powerful decisioning capabilities and its experimentation features. Because of this, Sitecore announced at Symposium 2021 that it would be going to market with the platform as two separate, but very intertwined, products. You can buy these two products separately or together.
Boxever => Sitecore CDP (standalone CDP) + Sitecore Personalize
Two Products: Sitecore CDP Product
The purpose of Sitecore CDP will be that of your traditional CDP: "understand every user and uncover trends with customer and journey insights." The features highlighted with Sitecore CDP are:
Real-time data ingestion (mapping data sources via UI) and batch data import
Anonymous and known customers, with automatic identity resolution
Segmentation of customers (custom and predictive, based on common attributes, behaviors, transactions), updated on a daily basis; predictive segments built with the Recency, Frequency, and Monetary Value (RFM) methodology, eg: Lapsed, One Time, Lost, New, and Recent Customers, with more on the roadmap
Audience sync with other systems (critical to activating in marketing automation channels, among other places)
Data lake access, including direct SQL query support, and data export capabilities
Analytics and predictive Insights about customers including channel preference, activity heat map for Day of Week and Time of Day, device preference, recent product/order info, matched segments, lifecycle (Acquire, Convert, Retain), order info (Total Spend, Average Spend, Total Orders), key data points ( Last Seen, Last Order, First Seen) and more on the roadmap
Data available for real-time personalization and segmentation
Data observability: At the field level, show quality of the data and if it's in a fit state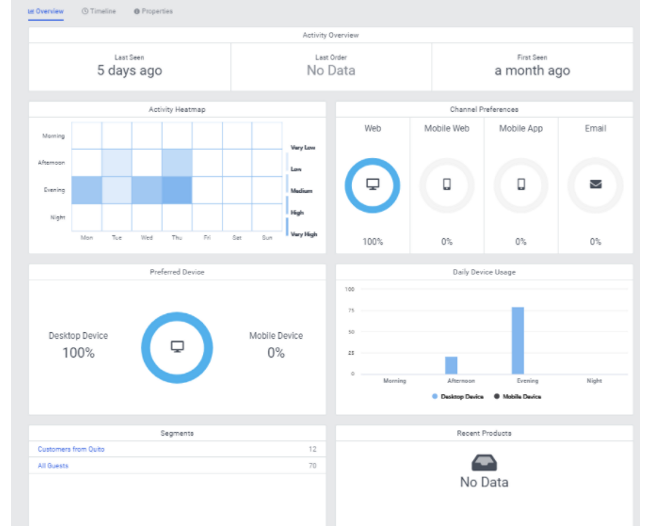 Two products: Sitecore Personalize Product
The purpose of Sitecore Personalize will be the rest of the platform: "optimize every customer interaction with A/B testing and personalization." The features highlighted with Sitecore Personalize are:
Decisioning: Next Best Action, the platform's decision workflow orchestration capability is unmatched
Experimentation: A/B testing, AI experimentation (multi-armed bandit)
Interactive and Triggered Personalization
Optimization
Experience templates
Embedding personalization directly in Sitecore Symphony (new interface coming soon to XM Cloud)

A/B testing, personalization and analytics natively in the authoring experience
Easy assignment of content assets to segments and variants with drag/drop
Real-time feedback on experience performance
I would imagine your next question is:
"If the platform is offered separately as two products, how can I use Sitecore Personalize without the customer data in the CDP?"
I know it certainly was my first question.
The answer is, you can't use Sitecore Personalize without the CDP underpinning. That's why there will be some of the lightweight CDP features included with Sitecore Personalize, enabling personalization and experimentation, and will leverage the CDP data lake to store the customer data.
However, if you've read my thoughts on YOUR CX QUARTERBACK: THE CUSTOMER DATA PLATFORM (CDP), then you may agree that your business will need the full CDP features (data ingestion from other systems/channels to create the full customer view, segmentation, audience/segment sync to other systems, data lake access, analytics and insights based on data and behavior) to market successfully in 2022 and beyond. That is why we recommend considering the full CDP product. We would go so far to say that Sitecore CDP/Personalize + Sitecore CMP/DAM of Content Hub = the solution to the high cost of personalization at scale.
As a partner with early access to a sandbox environment, some real experience under our belts, and a good sense of what is available from competitors, we have been able to put together a list of Sitecore CDP's pros and cons as well as what differentiates it in the market:
Pros of Sitecore CDP
Standalone or fully integrated, the choice will remain - you can have it with or without Sitecore XM and use a different DXP (best of breed approach)
Upgradeability is a non-issue with it managed as a SaaS platform
MACH certified (microservices-based, API-first, cloud-native, headless), MACH architecture, 150 ms response times, horizontally scalable
Since the CDP and the decisioning/personalization are baked into the same platform, it 'just works' together
Easy to add to website, deploy via Google Tag Manager or a JS snippet
Can make real time calls out to other platforms to get certain data you don't want to store
Identity Resolution: will look at guest profile Personally Identifiable Information (PII) - name, email, passport number, loyalty number, business identifier - and will automatically match
Can add extra customer properties to the OOB Guest and Order data models
Gives PII and non-PII options and is GDPR compliant
Custom and auto-generated predictive segmentation, with predictive segments automatically set based on buying behavior, types of customers; Insights and AI activation available
Timeline: view the different actions and details of each visit session
Machine learning: Real time features to power classifiers and recommenders, pass parameters into the external systems
Sitecore Personalize allows for lightweight access to the CDP for personalization - level up to full CDP when ready
Cons of Sitecore CDP
There are no OOTB connectors. There is an ability to setup 'connections' to REST endpoints (SOAP is not supported), via the UI
The CDP is not yet fully hooked up to the other Sitecore products in the ecosystem, but the effort is in flight
The migration path for customers who have XP/xDB in use already to CDP/Personalize is not yet well-defined
The experimentation and testing aspects of the platform are not as robust as some competitors
Reporting and analytics around experimentation isn't as robust as some competitors
Note that some of these "Cons" actually have nothing to do with the CDP features and are more around the Experimentation part of the Personalize product. As mentioned in "Pros", the decisioning part of the Personalize product has no equal in any other platform. That said, it may be better for some customers that Sitecore Personalize is 'simpler' in setting up experiments and reviewing the reports and analysis, compared to other platforms that can be overwhelming.
What about Sitecore XP?
The Sitecore Experience Platform (XP) product is a combination of Sitecore Experience Manager (XM) that is for managing the CMS, plus the Experience Platform and Database (xDB), which includes customer database, personalization, experimentation/testing, and marketing automation features. Sound familiar? That's because XP was essentially Sitecore's attempt over the last several years to build into its platform many of the feature sets that Boxever's platform was honed to do. Those of us who have been working with Sitecore long enough, know that aspects of XP worked great, while others, not so much. Additionally, there are performance issues with XP, especially because it is all tied together into one monstrous monolith.
Most current customers of Sitecore are running the XP license, but the majority of them aren't using the features, or are only using a very small subset of those features. Although XP will continue to be supported and will continue to have updates, this product will not be the primary focus of Sitecore. This is because Sitecore is committed to moving towards a MACH-compliant composable DXP architecture where all of its parts are different, best-of-breed, single-focused, SaaS platforms in the Cloud (ideally under the Sitecore umbrella). The effort to force XP into that model, which would have likely required a full tear down and rewrite, became unnecessary when they acquired Boxever, which not only checked all of the necessary boxes from an architectural perspective, but also because it was purpose-built to be a CDP and Experimentation platform. It easily beats out the XP Product features: xProfile, xConnect, xDB, A/B testing, especially considering Boxever's channel data ingestion, decisioning and Next Best Action capabilities.
Sitecore has essentially said that all new customers should focus on the XM product with Sitecore CDP and Personalize, and all current customers who have XP but haven't invested too heavily in it yet should level-down to XM and make the switch.
To make it all a little easier, as mentioned earlier, Sitecore Personalize will allow for lightweight access to the CDP, in case organizations want to commit in smaller increments.
Finally, Sitecore has a great promotion going for current customers who sign for a contract for Sitecore Personalize and/or CDP before the end of the year. This is a fantastic opportunity to get into something that you will probably have to do at some point anyway, so why not get a great deal while you're at it?
Coming in 2022
As we look to the upcoming year with Sitecore, CDP is underpinning the roadmap everywhere you look. Here are some of the things to look forward to:
Sitecore Symphony: Coming Spring 2022
Symphony will be Sitecore's Front-End as a Service, which may be a little confusing at first read. Think of it more as a Presentation Layout and Integration Orchestration as a Service. It's an interface within the Sitecore administration toolset that allows marketers to build, assemble, configure, connect, personalize and deliver front end application experiences of multiple composable services with a few clicks. Content Hub DAM will be integrated for Images, Sitecore Personalize can be used right from the interface to create/manage segments, set Personalization (assign content to segments) and configure Experimentation (including AI / Multi-Arm bandit smart testing). Content can come in from both Content Hub CMP and XM.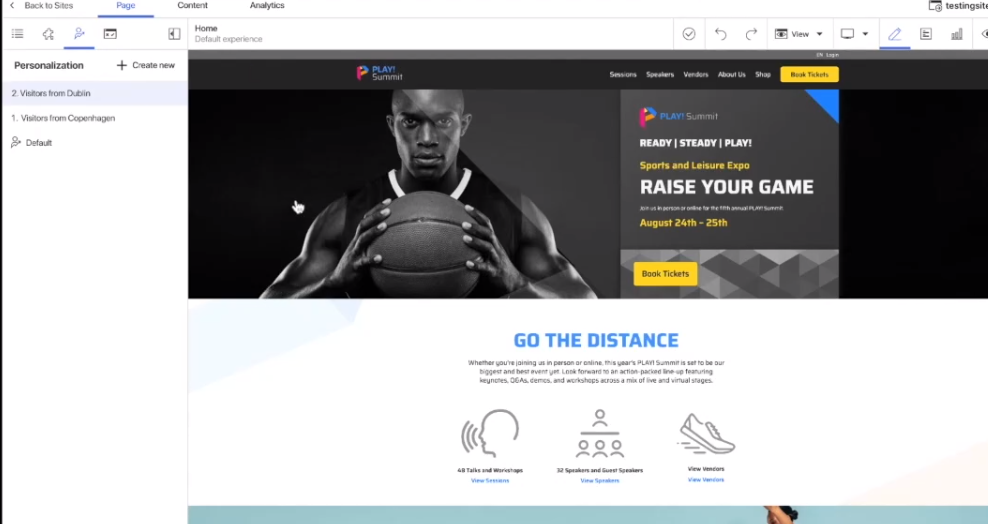 Also to look forward to:
New automated CDP insights and predictive segments
GraphQL APIs will be leveraged to further integrate the products together (eg - Content Hub or Content in XM could flow into Sitecore Personalize for a personalization scenario)
Blueprints on how to integrate Sitecore products
OOB connections
SSO integration across Sitecore products
New Sitecore design system with unified APIs and API gateway
Sitecore Search with instant previous search, index structured data and scraping final-rendered pages, AI to surface content recommendations, fine-tune results, boost, and bury content
Personalization on the Edge
I'm hopeful that after reading this overview, it has helped you to make sense of all that has gone on with Sitecore CDP this year, what the purpose and capabilities of the platform are, how it has split into CDP and Personalize, and the role it's playing in Sitecore's future roadmap. The platform is the brain behind everything Sitecore is going to do, and it ultimately will be unavoidable. If you're not quite ready to commit to the full CDP, one simpler way in will be to initially sign up for Sitecore Personalize, get some lightweight CDP access and prove out your initial ROI. Verndale can help you do this with a program designed to work your way up to it. Contact us to learn more.