See All Our Insights
3 Tips for Managing Translations on Your Website
Feb 13, 2023 • 2 Minute Read • Deepthi Katta, Senior Technical Architect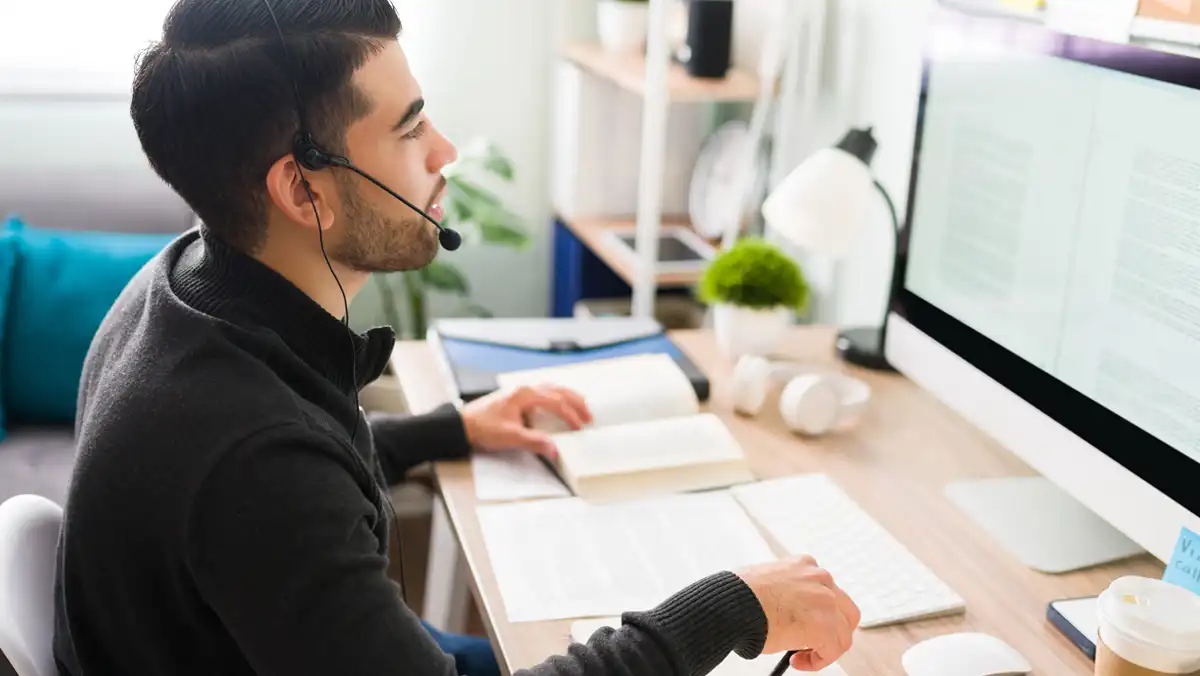 Today's world is more connected than ever before and technology is closing the gap between the digital divide. The virtual world means it's no longer a luxury to try and reach global audiences if you want to be a global brand.
Going global is inclusive of different cultures, publishing in a variety of languages, and encompassing varying governance and user journeys. A foundational step for hitting on these areas is building a global website content strategy that ensures it can serve important content in a language that any end-user can digest and find relatable.
A multi-lingual website, when done right, follows best practices and can reach and resonate with larger audiences leading to higher conversion rates.
Well-known content management systems (CMS) and digital experience platforms (DXP) such as Sitecore provide this capability to manage and serve regional-specific content. Now, how the platform is configured and how the content is translated depends on specific requirements around your business' product and services, including:
Amount of content
Frequency of updates
Number of languages and cultures
Additionally, your organization's authors, search engine, and users will dictate the specific needs and how you will set up the DXP/CMS platform. Identifying these requirements should be a top priority before setting up your global site. We believe that one solution doesn't fit all, and going global is no different. It requires a tailored solution.
3 Tips for Setting Up a Global Framework
1. Tap Into Translation Experts
When navigating a global market, translation partners such as Translations.com bring expertise to businesses. Translation partners can support the cumbersome activity of translations and remove the risk of inviting multiple content editors as translators. Established translation partners are also usually well integrated with CMS/DXP, such as Sitecore, which helps make translations seamlessly deliver regional content where necessary and reach your end users faster.
Below is a quick sneak peek of the process with Sitecore as the DXP/CMS platform and Global Link Translator as the translation management system. Of course, the process might vary with each client, but this should give a fair idea of how the translation process works in conjunction with the translation partner. This streamlined process will ensure we reach the end goals swiftly while still meeting the requirements. We've helped businesses at various levels reach their goals for globalization following a similar process.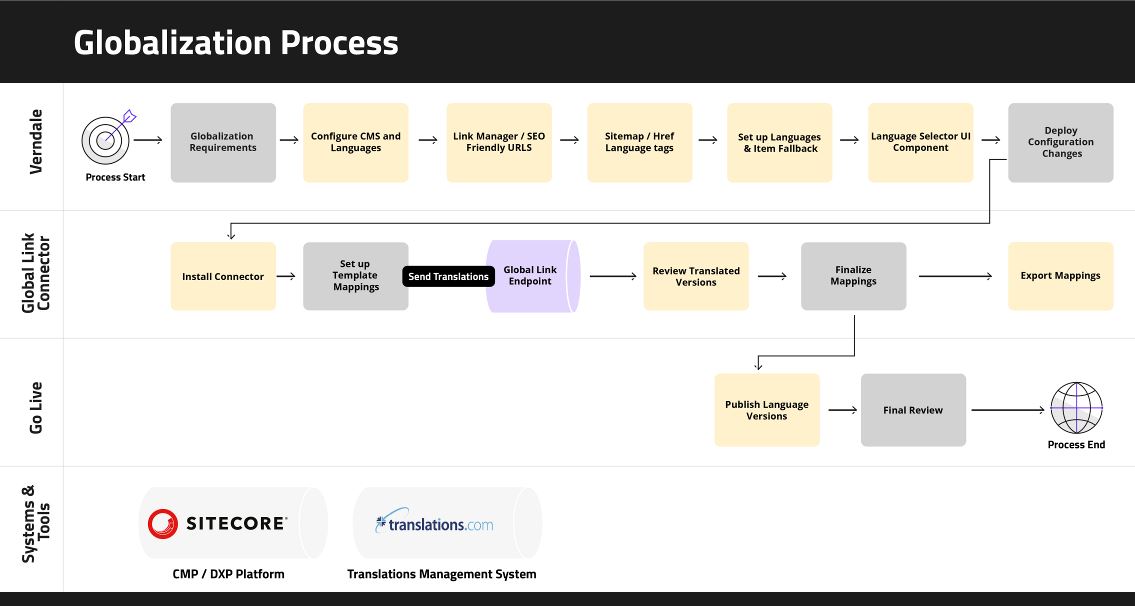 2. Set Up Template Mappings Correctly
At the end of the day, each translation tool will have an approach to ensuring that the required content needing translation is translated.
Most connectors have a mapping to suggest which specificed template fields should be translated, including page and data source templates. For instance, you may want rich text and text-based fields translated. It's critical to set these mappings correctly to ensure when adding a new piece of content every time that translated content is available.
3. Enable a Fallback Language
On any CMS that supports multiple languages, there might be times when translated content is unavailable. When this happens, the alternative should be for the user to see content in a selected fallback language. Fallback language appears when specific language pages are visited and translated content is unavailable. Setting up the fallbacks ensures the end-user experience is consistent in the case of missing translations.
Want to reach customers across the globe? No matter where you are in your globalization journey, you'll need the digital framework and technology that meets your business needs. Get in touch to transform or optimize your website and content strategy toward a truly global state.
5 Predictions for 2023's Marketing Landscape
Feb 01, 2023 • 5 Minute Read • Stephanie Nardone, Content Marketing Manager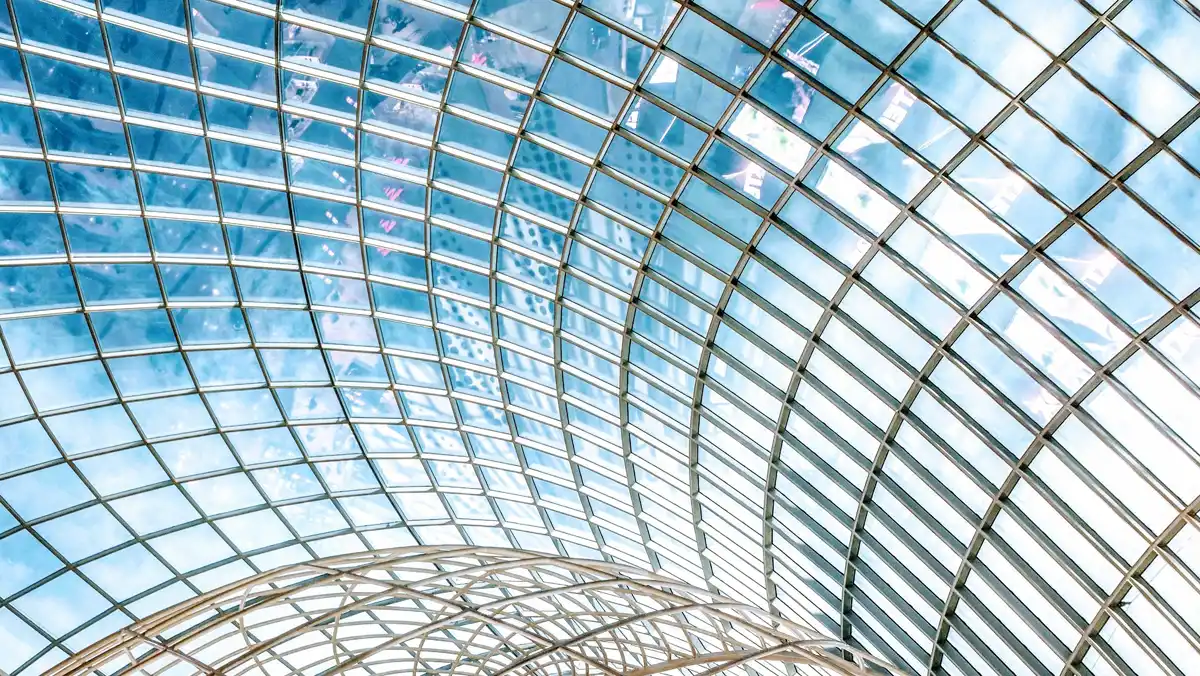 Continue Reading
Continue Reading