See All Our Insights
Omnichannel Marketing for Financial Services
May 15, 2023 • 3 Minute Read • Jim King, VP, Partners & Alliances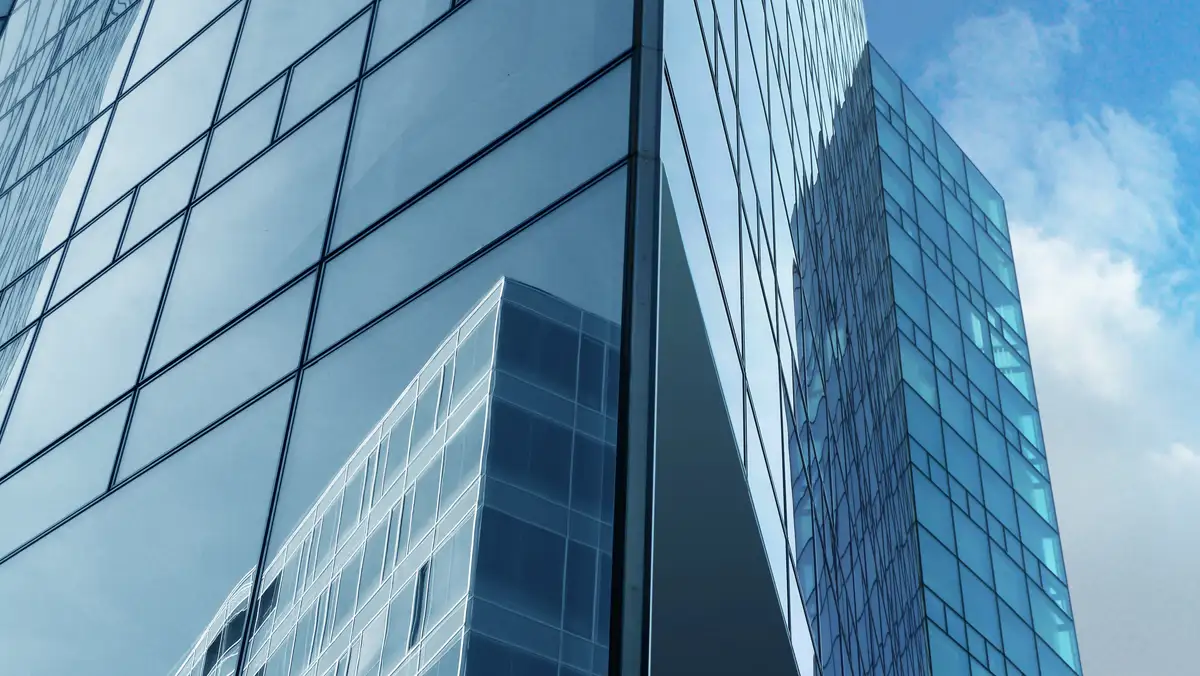 With increasing customer expectations and an ever-changing MarTech landscape, staying ahead of new trends and competition in the financial services industry may mean adapting the way you leverage technology.
Today, one-to-one interactions are essential to any customer experience and marketing strategy to drive engagement, accelerate buying behavior, increase customer lifetime value (CLV), and boost consumer trust in your brand, whether you're in banking, wealth management, insurance, or financial advisory services.
The Shift in Customer Expectations
B2B and B2C used to have distinct characteristics and customer expectations. Technology and the increasing availability of data have blurred the lines between the two, merging traditional B2B experiences with B2C expectations. Both now expect instant and personalized experiences with brands, all driven by data.
Regardless of whether they're shopping at Amazon or applying for a line of credit, consumers expect seamless, omnichannel, and informed experiences. They want recommendations, easy-to-use interfaces, and fast, reliable delivery/service.
Luckily, technology has enabled businesses to gather vast amounts of customer data, allowing them to tailor their approach to each customer's needs and preferences. Staying ahead of the competition can be as simple as connecting with customers and personalizing their experience with one-to-one interactions.
Getting to Know Your Customer's Needs & Preferences
We know your customers and products are unique to your business. Capturing those details in a single place allows you to get a 360 customer picture to inform your customer journeys. Profiling, segmenting, and mapping can help you start to organize those different journeys and operationalize one-to-one interactions.
From high school grads emerging into the real world to new families narrowing in on 529 plans, and senior citizens with impending retirement plans, what do your customer personas consist of, and what are their needs? Consider the following:
Personas/Profiling
A customized experience begins with having a deep understanding of customer and consumer expectations, perspectives, pain points, demographics, and interests. Often times these are fictional representations of specific segments but can be informed by research and customer data.
Segmentation
A way to divide your target market into smaller groups of consumers who share similar characteristics. Segmented audience groups can receive different content and communication at different times.
Mapping
Visually representing the customer journey is about grouping your products or services to connect the dots back to your customer segments and profiles. With mapping, you can identify touchpoints for each persona's unique customer journey as it relates to what you're selling or offering.
Here's an example of a content profiling matrix for one-to-one personalization. It's a simple representation for mapping offerings to user's life stages and interests: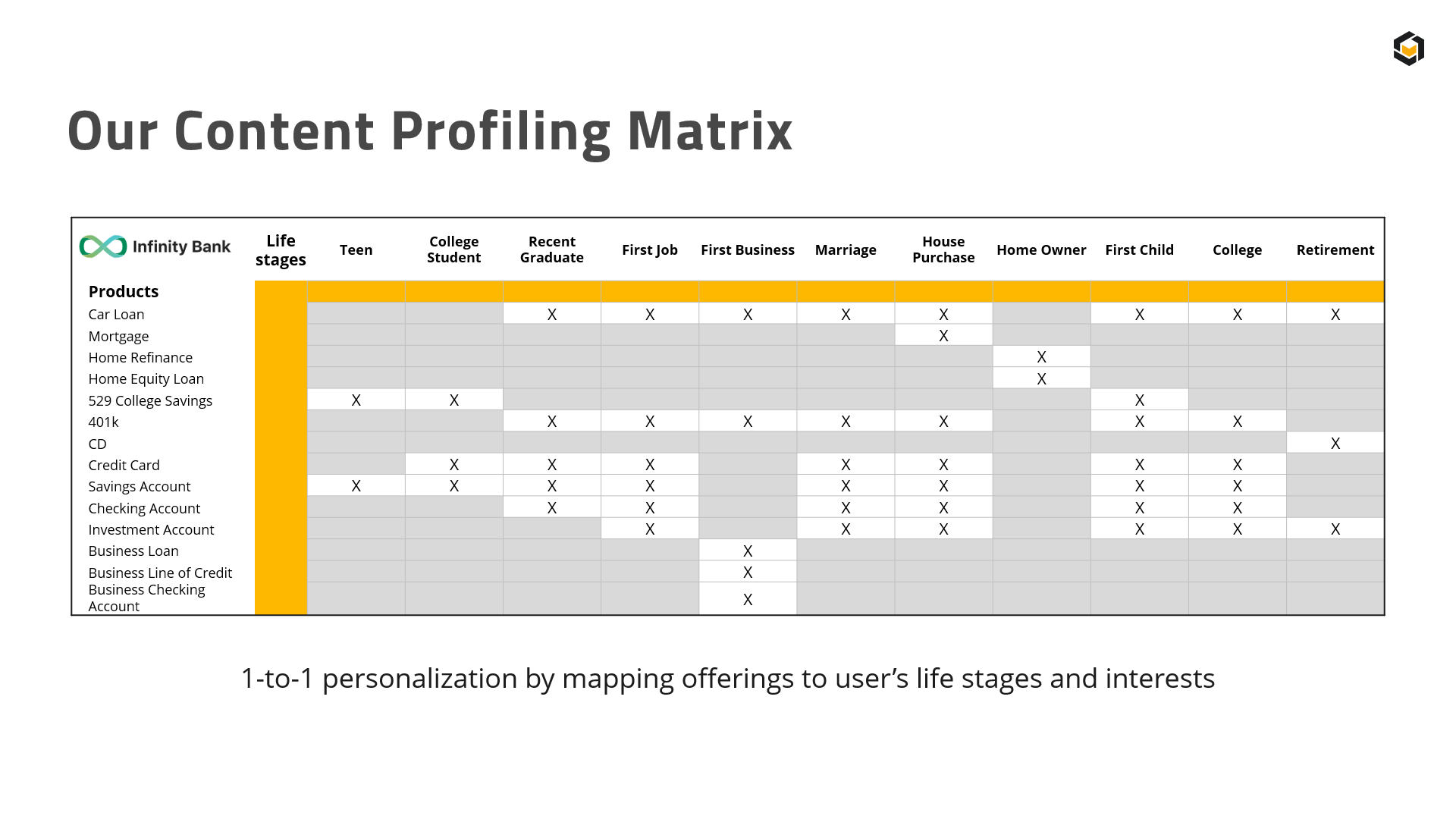 Personas can often seem speculative and based solely on one's browsing behavior. To get more granular and explicit with your customers, you can capture first-party site data or provide a single-sign-on option using users' social media accounts.
The Mechanics of a Data-Driven Experience
Once you identify the above elements, you can start curating a brand narrative across different channels to drive connections and nudge consumers toward the next best steps. However, putting this into practice requires a digital experience platform (DXP), a system to orchestrate it with data at its core, fueling a truly connected brand narrative across channels.
Most omnichannel experiences with personalized marketing will encompass a content management system (CMS), content recommendation and personalization tools, content data platform (CDP), search, and customer relationship management (CRM) software.
Want a clearer understanding of DXPs? Read our deep dive: Demystifying Digital Experience Platforms.
A CDP is the brain of your DXP. It uses machine learning to get you to customer insights faster and more comprehensively. It then shares that knowledge with the various platforms where you can act on it. Depending on the customer's life stage and demographic, your DXP can recommend products or services and show different versions of the same web page. Powered by CDP, you can reach customers with varying content from profile to profile on different channels.
Read more about CDPs: Your CX Quarterback: The Customer Data Platform (CDP).
Orchestrating an Omnichannel Experience
With a DXP supported by unified data, your team has the ability to engage with customers wherever they are and personalize at scale. You can provide relevant experiences across the web, ads, SMS, email, an app, and even in-store kiosks, and more.
However, making everything we talked about reality and adopting new technology requires a deeper dive. We provide a walk-through of an end-to-end digital journey, showing you the dynamic, personalized content changing live on the page. Get a peak behind the curtain of the back end of orchestrating an omnichannel experience tailored to the financial services sector.
See a personalized experience using the full lineup of a DXP revealing:
What connected customer data is, and how it helps
What to consider when implementing connected data and multi-channel personalization
How to orchestrate third-party ads
How CDPs work
How different channels, messaging, and campaigns can drive the best results
Want the tools to implement omnichannel personalized experiences to transform your digital experience? Get in touch to find out more and schedule a walk-through of an omnichannel digital journey specifically for financial services.
5 Digital Trends Shaping Modern Customer Interactions in Financial Services
Mar 02, 2023 • 4 Minute Read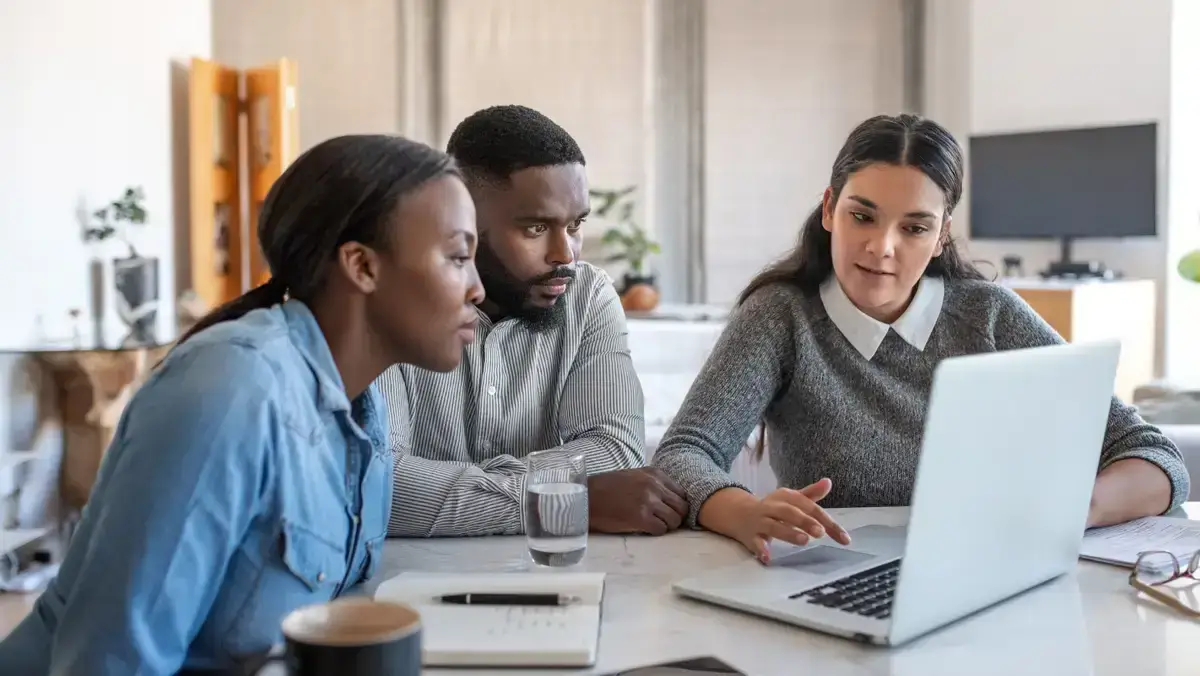 Continue Reading
Continue Reading