See All Our Insights
What's NECXT in Healthcare: Digital Trends to Watch
Feb 01, 2021 • 3 Minute Read • Ross Lucivero, EVP, Product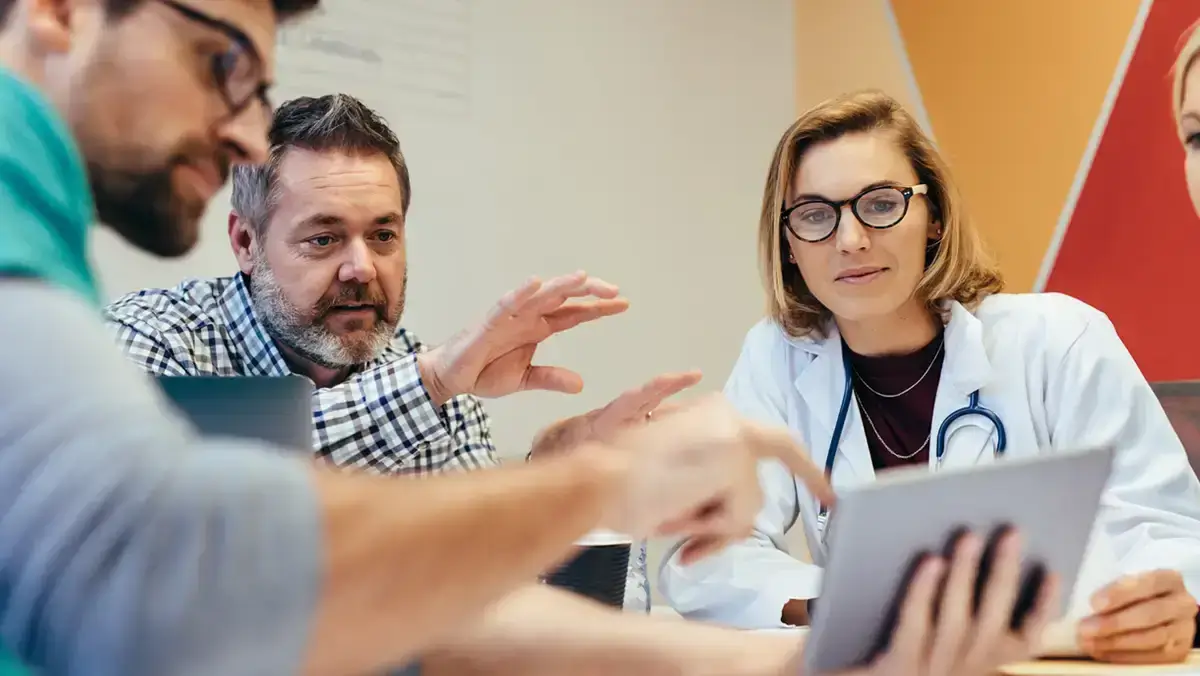 The healthcare system, both in the US and worldwide, is rapidly changing. The driving factors are increasing costs of healthcare, a growing middle-class population, and an increasingly aging population. Government mandates further support the demand for better and smarter digital healthcare solutions.
To tackle rising healthcare costs, governments and private healthcare providers will be turning to these five technological areas.
1. Smarter hospitals with IoT
According to a report from Grand View Research, the IoT market in healthcare is expected to grow to $534.3 Billion by 2025. The prediction is largely based on a growing preference healthcare professionals have for real-time data when it comes to the management of chronic diseases. Remote monitoring of patients and collection of health-related data for research are only two of many IoT benefits that can significantly improve correct diagnosis, reduce readmission rates, and reduce costs for hospitals.
What we can expect more of in the years to come is a further development of smart hospitals. Together with AI, IoT will be able to evolve a hospital from being just digital to a "smart" organization that can collect daily patient data, produce using machine learning algorithms, and share those insights for all involved parties.
2. Increased Healthcare Accessibility with Telemedicine
Telemedicine provides greater accessibility to healthcare services. For routine visits and management of chronic illnesses, any geographical restrictions are removed thanks to apps and digital devices that can gather and send information like vitals, ultrasounds, heart and lung sounds, images of skin, ears, eyes, and even blood test results.
Consequently, telemedicine saves time and money, as follow-ups and routine care can be done online. Despite seeing their doctors less, patients are often receiving better quality healthcare because healthcare professionals don't only rely on the symptom descriptions from the patients. In turn, this reduces the number of readmissions.
The benefits of telemedicine would not be the same without mobile apps. They are the necessary accessories to specialized sensors and devices that streamline the patient-doctor interaction. Just last year, the market for mobile health apps grew by 18.7%. The apps also save patients money.
Many apps offer more affordable consultationswith general practitioners, psychiatrists, or psychologists that in-person appointments and several allow you to get your doctor's note, prescription, and treatment plans directly in the app.
3. Increased Efficiency with Cloud-Based EMR
Digital patient records are, by no means, a new development. Around 87% of healthcare practitioners reported using an EMR system, but the usage is not consistent. The main reasons behind this are inadequate UX, excessive documentation requirements for various procedures, and, last but not least, the staggering cost of implementation. On average, an EMR system costs over 100.000 USD to implement.
As an answer to outdated and expensive EMR systems, we are likely to see a bigger offering of cloud-based solutions as they provide better accessibility of patient records and lower cost of implementation. Cloud solutions are also expected to address the lack of interoperability between healthcare facilities, which often slows down the work of healthcare practitioners and puts patients at risk.
The low efficiency within medical facilities is also likely to be tackled with a rise in demand for RFID. In developing countries like China and India, RFID is also a low-cost solution to assuring better quality control of drugs and patient safety.
4. Full Transparency in Health Records with Blockchain
Blockchain is a technology that has mostly been associated with monetary transactions. But because blockchain is essentially a decentralized database that is nearly impossible to hack, this technology can be useful for the healthcare industry as well.
First of all, blockchain has the potential to solve the lack of interoperability of different EMR systems, while at the same time complying with strict data privacy regulations, such as HIPAA and GDPR. Secondly, it will also be harder to file false patient records or fraudulent insurance claims, due to the blockchains consensus rule.
A few hospitals are already testing out this new technology. MedRec 2.0, an MIT Media Lab project, is being tested on patient data from Beth Israel Deaconess Medical Center, while The Taipei Medical University Hospital recently finished its blockchain integration project.
5. Better Use of Patient Data with AI
Researchers have been making significant progress using AI when it comes to early diagnose, especially for cancer, producing a 3% false positives, compared to 20%-30% of manually reviewed cases. The difference in outcomes can be explained by the fact that AI removes cognitive biases or overconfidence, and limits tiredness and stress put on the human mind.
The governments are at the forefront of investing in AI: the UK government is now investing £210 million in research for early diagnosis and treatment of chronic diseases by 2030. But it is IBM and Google that are working the most on making patient data more useful. Over 80% of all medical data is reposted to be unstructured, and the tech giants are developing machine learning algorithms that can review and store patient information, medical journals, case studies, etc.
The healthcare industry is poised to see some major changes in the next year. Anticipating and taking advantage of the digital trends to watch in 2020 is critical to keeping your organization ahead of the curve.
Trendspots in Healthcare: Mobile Apps & The Patient Experience
Jan 10, 2023
Continue Reading
Continue Reading